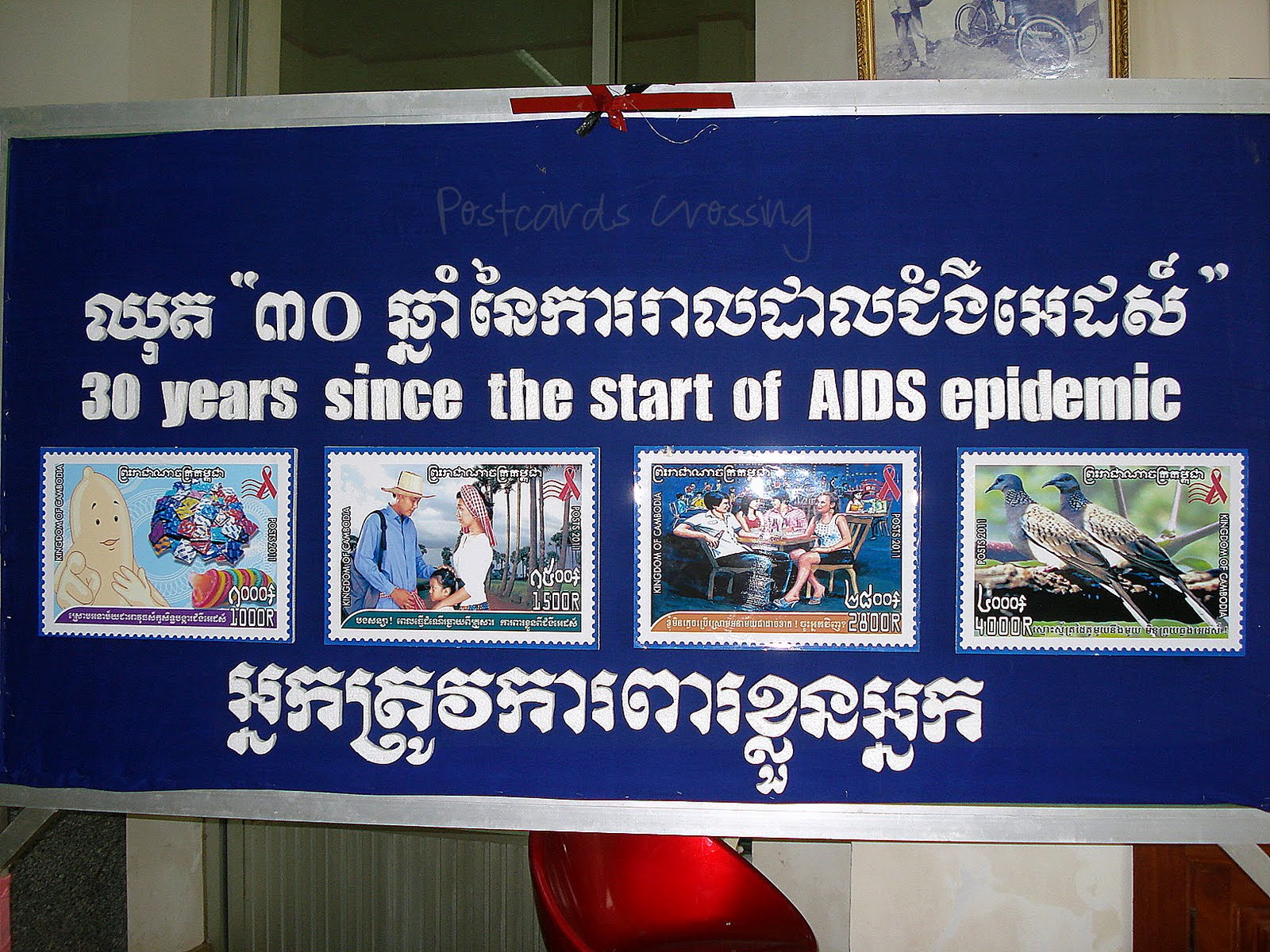 Last Wednesday, June 29, the Cambodian Ministry of Posts and Telecommunications officially launched a new set of stamps (four), a First Day Cover, and a maxi card commemorating the 30th anniversary of the discovery of the HI-virus (HIV). I learned that this is incorrect. According to JournAIDS, June is in fact the 30th anniversary of, specifically, the first recorded AIDS related deaths, not the anniversary of the discovery of the virus itself.
The stamp designs are to promote safe sex, monogamy, and faithfulness.
From left to right: 1000riels, 1500riels, 2800riels, and 4000riels in denominations. A total of 80,000 of these stamps and 5,000 maxi cards depicting the two birds in the 4000riel stamp were issued. A First Day Cover was also issued but no souvenir sheet was released.
As noted in the UNAIDS, UPU, ILO and UNI Global Union guide for the Global HIV Prevention Campaign issued in July 2010, "In 2011, 30 years will have gone since acquired immunodeficiency syndrome, or AIDS, was first identified…As operators of the world's largest physical delivery network, Posts [postal services] have a unique opportunity to reach millions of people on a daily basis, including its own employees, to provide them with critical health information such as how to protect themselves from HIV." (Source)
A bit of info on HIV/AIDS in Cambodia:
HIV/AIDS was first identified in 1991. Only a few years later, experts warned that the epidemic had taken off rapidly and that Cambodia risked becoming the Asian country with the worst AIDS problem. In response, the country attacked the epidemic vigorously, earning international recognition for its success. Between 1998 and last year, Cambodia dramatically reduced new infections and made anti-retroviral treatment widely available. By 2009, an estimated 93 percent of those eligible for AIDS drugs were receiving them. Still, Cambodia's AIDS epidemic, fueled largely by unprotected heterosexual sex between men and female sex workers, [recent data now include "men who have sex with men"] remains volatile and could spread rapidly without targeted prevention efforts, the new report says. (Source)
This is the design of the 500riel stamp that was rejected and never printed/issued.
Originally, there were to be a total of five (5) stamps in this set. However, due to financial constraints, as well as concerns expressed by some officials of the NAA [National Aids Authority of Cambodia] over the image depicted in the 500 riel stamp (see below), only 4 stamps were finally issued. (Source)

What do you think of the design?
More signs worldwide can be found at the main site. Please click the logo to check out other signs.