I have this ambitious goal of growing my food. A lot of my friends scoffed at the idea because not only that it is ambitious but also impossible since my husband and I live in a second floor (that's the first floor for my Filipino readers) an apartment.
Well, I'm not the one to be dissuaded so easily. I planted seeds in pots. In the last quarter of 2012, I planted bitter gourd seeds in a big pot in our veranda and, well, needless to say, I am now enjoying the fruits of my labour. Pun intended.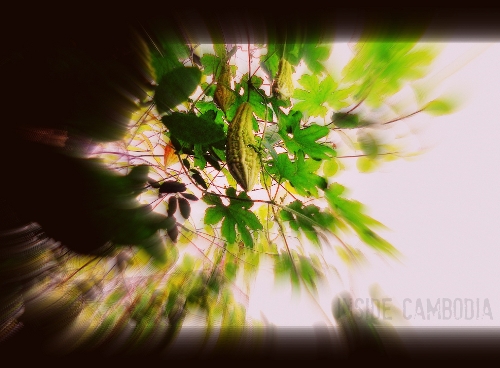 See what I mean? In November, the lone ampalaya (bitter gourd) plant that survived amongst how many seeds I buried in the pot started flowering. By December, yellow flowers were blooming where some of them eventually turned into baby ampalayas. Not all of the baby ampalayas matured. A lot turned yellow, must be from the cool weather; but there are more flowers coming out every day.
I'm excited, of course.
Since the first week of 2013, I already picked four pieces of bitter gourd! Two already ended up in my tummy after I cooked them with monggo (mung beans), kalabasa (squash) and pork. The remaining two were picked only this morning 🙂 They're smaller in size compared to the ones available at the market but they're ampalaya nonetheless. What's more, they're basically organic. No pesticides, no nothing. I regularly water them every afternoon and dump my biodegrable stuff (mostly vegetable peelings) on that pot.
I know it's not that much and it's too early to boast but a girl has got to start from somewhere. It dawned on me: if I could grow ampalaya on pots from my apartment's veranda, how much more if I have a small piece of land? Imagine that. I know, I'm so simple like a country lass, hahaha.