Last Wednesday, I was invited by the nice people at Legend Cinema for the premier screening of the movie, Fast and Furious 5. Th Fast 5 premier also coincided with the premier of Disney Pixar's Cars 2, for kids and kids-at-heart.  We were happy to see so many cars on display at CitMall's parking lot as part of its promotional gimmick. Here are two yellow cars  that were on display: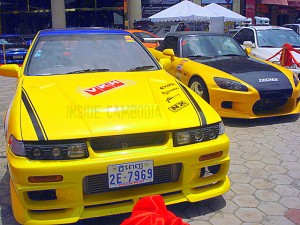 These are only two of the dozens (even more) of cool cars that were on display that day. I chose only these two for my Mellow Yellow Monday entry today.
While this is not the first time I got invited by Legend Cinema (I told you they are very generous) I didn't hesitate to accept the invitation for another movie screening. You know why? Because the movie to be screened stars two tough guys in Hollywood. Vin Diesel and Dwayne Johnson. I like them both, they're ruggedly handsome and cute like teddy bears. I enjoyed the movie because apart from the two – you should watch their attempts at emoting, especially Vin Diesel. LOL. I could not imagine a tough-looking guy turning into a softie. Watching Dwayne "The Rock" Johnson I could not help but giggle because I somehow expected him to raise an eyebrow everytime the camera closes in on his face. What a hoot!
Anyways, to those who are in Phnom Penh, go watch it. It is still showing at Legend Cinema. The action is set in the exotic Brazil, the awesome cars are there, and – I hate to say this – beautiful women, and of course, the oozing machismo. Nevertheless, it is a very entertaining, fun movie.
More Mellow Yellow Monday entries here (please click logo):
Read More